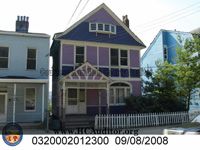 NEIGHBORHOOD:
East End
YEAR BUILT:
1890
USE:
Single-family dwelling
OWNER:
Gerald R. Burns, trustee
ASSESSED VALUE:
$87,870
ORDERS:
August 2006, for exterior doors, broken windows, exterior paint, siding, and gutters and downspouts. Orders reissued in April 2007 for exterior doors, windows, exterior paing, and siding. Compliance was achieved in September 2007. Orders reissued in May 2010 for siding, guardrails, windows, exterior paint, electric service entrance, gutters and downspouts, chimney, flashing, roof, and retaining wall. Closed with compliance in August 2012.
CONDEMNED:
--
HAZARD:
--
REASON RAZED:
Razed to continue the development of Mark Greene Construction's single-family home project (unconfirmed), with three homes sold for between $643,000 and $743,000.
MAP