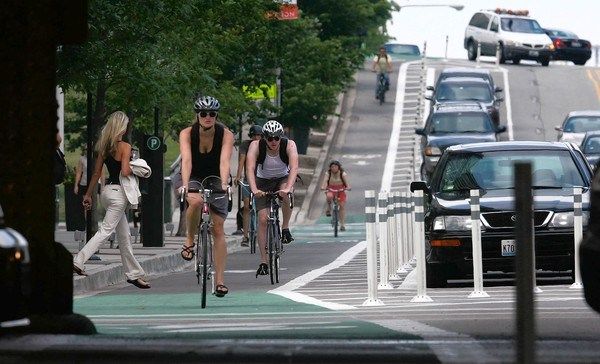 Cincinnati's Department of Transportation and Engineering (DOTE) is exploring bikeways along Central Parkway and is soliciting
public input on three options
– or a "no build" option – throughout the summer.
The options, which would be installed next year along the four miles of roadway between Elm Street and Ludlow Avenue, include a two-way cycle track on the west side of the street, a one-way cycle track on each side of the street, and a one-way bike lane on each side of the street.
Cycle tracks are similar to painted bike lanes, but are physically separated from automobile traffic by barriers – often through the use of painted buffers and plastic poles sticking out of the street.
The project will include two phases, with the first phase including three segments that could each have different options installed. The three segments in Phase 1 include
Elm Street to Liberty Street
,
Liberty Street to Brighton Avenue
, and
Brighton Avenue to Marshall Avenue
.
A second phase will connect Marshall and Ludlow avenues.
The cycle track project is estimated to cost $750,000. The City received a $480,000 Transportation Alternatives Program grant from the federal government in June, which will help fund the project's first phase.
Photo provided
Previous reading on BC:
City seeking input on Delta restriping (7/8/13)
Spring Grove bike lane moving forward; Will connect Northside with Downtown (6/28/13)
City will appropriate nearly 5 acres for W MLK project (6/3/13)
Liberty St 'road diet' advances, to be bid by Nov. 2014 (5/31/13)
City to apply for grant for one of two bike lane projects (3/13/13)