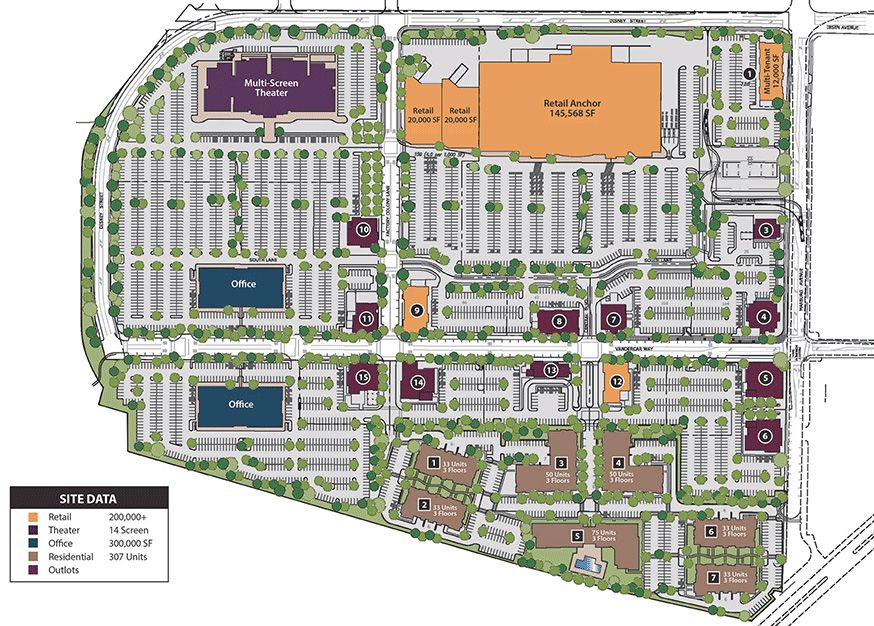 A development plan change that would bring the largest-ever
Kroger Marketplace
store to
Oakley Station
received approval from Cincinnati City Council on June 19.
The new plan by co-developer USS Realty, LLC for what is known as Phase 1C of the $120 million project replaces what had been six attached retail structures with a three attached retail structures, including the 145,568-square-foot grocery store. Bank and pharmacy drive-throughs will be attached to the east side of the structure, and a fuel center will be added at the corner of Marburg Avenue and Vandercar Way.
Additionally, two small outbuildings planned for the northeast corner of the site have been replaced with a 12,000-square-foot, multi-tenant building.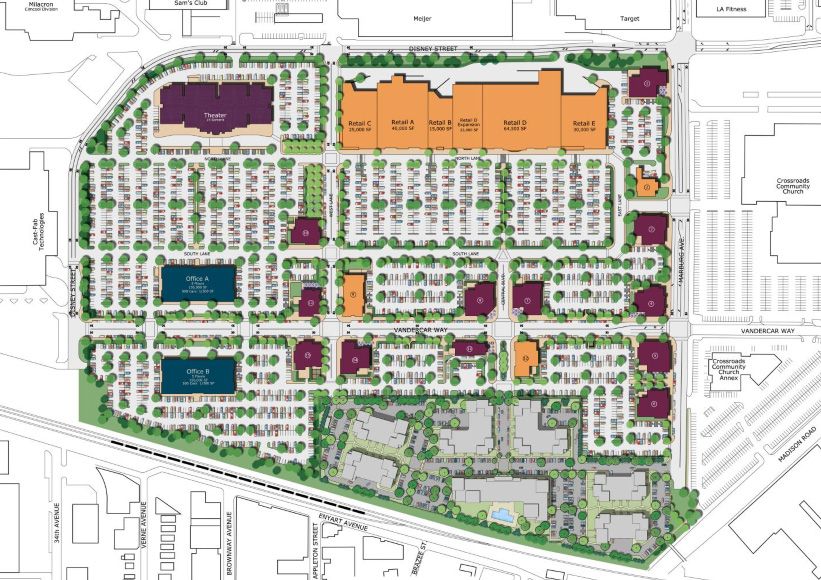 Construction on Phase 1C is scheduled to begin before October, with the grocery scheduled to open by 2015.
When completed, the three phases of the 74-acre Oakley Station will include 32 buildings totaling approximately 950,000 square feet of restaurants, retail, office, theater, and residential uses. Approximately 4,250 parking spaces will be provided on surface lots.
Phase 1A, a 59,000-square-foot, 14-screen
Cinemark
movie theater, is scheduled to open within the next two months.
Phase 1B, the
Boulevard at Oakley Station
, is also under construction. The seven building, 307-unit apartment development, being built by
Flaherty & Collins Properties
, should see its first building completed within the month.
Planning has been in the works since 2003 for redevelopment of the site, which once was occupied by the Cincinnati Milacron
(Cincinnati Milling Machine)
and
Kirk & Blum
plants.
In 2008, Vision Land Development signed a development agreement with the City to build Millworks, a $300 million, 2 million-square-foot mixed-use project including office space, retail, residential, hotels, and a village square.
A soft economy and delays on the $30-$35 million Kennedy Connector road project killed those plans, and
Vandercar Holdings
purchased 67 of the 74 acres in December 2010.
Images: Current site plan, former site plan, and the 2008 Vision Land Development site plan
Previous reading on BC:
Oakley Olive Garden gets LEED tax break (1/29/13)
Agreements to fund improvements at Oakley Station (6/27/12)
Oakley Station residences win LEED tax exemption (4/9/12)
Hearing on Oakley Station remediation tonight (3/8/11)
Vision Land puts Millworks plans on website (7/22/08)