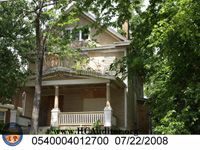 NEIGHBORHOOD:
Evanston
YEAR BUILT:
1913
USE:
Two-family dwelling
OWNER:
Delores Chandler
ASSESSED VALUE:
$18,880
ORDERS:
December 2003, for gutters and downspouts, cornice, and windows. Ordered vacated and barricaded in June 2004, adding exterior steps and exterior hand rail. A criminal case was filed in August 2004. In June 2006, people were seen partying inside the building. Ordered vacated and barricaded in October 2007. The criminal case was never served. It was discovered that the owner was deceased, and there were no probate records.
CONDEMNED:
February 2009.
HAZARD:
February 2010, adding siding and a failing porch.
REASON RAZED:
Declared a public nuisance and entered into the City's hazard abatement program.
MAP