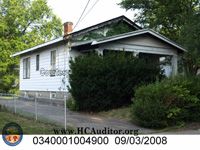 NEIGHBORHOOD:
Madisonville
YEAR BUILT:
1926
USE:
Single-family dwelling
OWNER:
Melvin L. Willis
ASSESSED VALUE:
$40,680
ORDERS:
--
CONDEMNED:
July 2009, vacant and open to trespassers. The house lacked gutters and downspouts, exterior paint, and upkeep of the yard. In May 2010, the case was reviewed due to drug and prostitution activity on the property and it was found not to be a public nuisance. A civil fine was issued in August 2012.
HAZARD:
December 2012, adding rotten porch steps, a cracked foundation, and a defective roof.
REASON RAZED:
Declared a public nuisance and entered into the City's hazard abatement program.
MAP