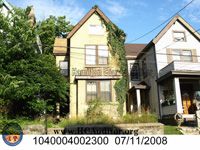 NEIGHBORHOOD:
Corryville
YEAR BUILT:
1890
USE:
Single-family dwelling
OWNER:
Emmett Cooper
ASSESSED VALUE:
$60,250
ORDERS:
March 2010, for retaining wall, roof, chimney, gutters and downspouts, soffit, tuck pointing, siding, exterior paint, and exterior hand rail. Orders were reissued in August 2010 for the retaining wall, roof, chminey, cornice, soffit, exterior paint, and windows.
CONDEMNED:
March 2011, following a fire. In August 2011, orders were reissued and foundation cracks and falling ceilings were noted. A civil fine was issued in April 2012, then again in July 2012. Some work was done, but none of it was to the satisfaction of City inspectors.
HAZARD:
October 2012.
REASON RAZED:
Demolished by the owner to close out orders.
MAP