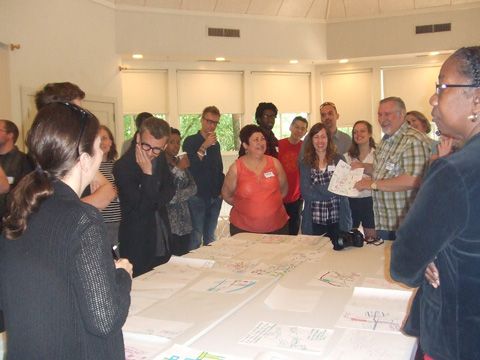 On Saturday, North Avondale held a community design workshop on how to make
its neighborhood business district (NBD)
better for community residents and the businesses along Reading Road.
Organized by the
North Avondale Neighborhood Association (NANA)
Strategic Planning/Land Use Committee, the event was a hands-on way to let community stakeholders, with assistance from students from the
University of Cincinnati's College of Design, Architecture, Art, and Planning (DAAP)
, inform how the NBD will serve them in the future and any changes that might help it thrive.
The workshop was led by New York-based
Interboro Partners
, an award-winning firm well known for introducing innovative and experimental ideas into urban public spaces.
Participants began the day by drawing "mental maps" of their image of the NBD and presented them to the group. They then went out as teams into the NBD and noted their observations on how it performs in a number of metrics, such as traffic circulation, cleanliness, and green space.
After lunch, the teams went back out into the NBD and interviewed businesses owners and people on the street. They then returned to share their observations from the day and their ideas for the NBD's future.
Among the major observations that emerged were:
Traffic organization is biased toward the driver and against pedestrians and bikers, a situation that could be improved through traffic calming techniques;
The NBD has a fair amount of existing businesses, but they are not well known within the surrounding community and some only open "on demand", rather than on a set schedule;
The neighborhood could support more and varied businesses, and the community strongly prefers independently-owned businesses to national chains;
The diversity of the neighborhood is one of its greatest strengths. However, many felt that there is simply "nowhere to go" for this diverse population to interact. An ice cream parlor was cited most often as a potential destination, as well as a grocery store, galleries, restaurants, a pharmacy, an mixed-use retail and residential development; and
The mansions along Reading Road, seen by some as a hindrance to development in the NBD, could actually be assets if marketed properly.
Input will be used by NANA, the North Avondale Business Association, and other neighborhood groups as part of an ongoing, intensive look at the NBD. Materials also will be made available to the public online, said Rebecca Williamson, member of the Strategic Planning/Land Use Committee and an associate professor in DAAP's School of Architecture and Interior Design.
"There were many, many actionable items – some quite simple – and it is my impression that people feel motivated by the workshop to start making things happen," she said.
NANA also has prepared a separate
34-question NBD survey
from which it hopes to measure residents' and visitors' reasons for visiting the district, employment within the district, access to the district, priorities in residential and commercial development, and possible commercial or arts uses.
Photo credit: North Avondale resident Michael Caporale explains his "mental map" of the North Avondale business district to neighborhood residents, design students and professionals at a workshop led by Interboro Partners on Saturday, June 8 in North Avondale. (Provided by Rebecca Williamson)
Previous reading on BC:
E Mitchell to get bike lane this summer (4/9/12)
Construction photos: Villages of Daybreak and others, 3/29/12 (3/29/12)
Chronic nuisance ordinance to be reviewed...again (4/13/10)
Decisions made on four CPS projects (10/20/09)
With no rights to sell contents of mansion, did auction house do so anyway? (6/15/09)