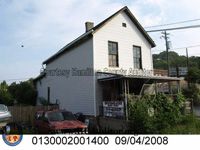 NEIGHBORHOOD:
East End
YEAR BUILT:
1875
USE:
Single-family dwelling
OWNER:
Curtis J. and Mary E. Bentson
ASSESSED VALUE:
$21,500
ORDERS:
--
CONDEMNED:
February 2012, citing roof, walls, windows, gutters and downspouts, rotten floors, deteriorated front porch, missing and vandalized mechanicals, a lack of utility service, and litter. It was determined that the owners had been deceased since 2009 and 2008, respectively.
HAZARD:
September 2012.
REASON RAZED:
Declared a public nuisance and entered into the City's hazard abatement program.
MAP