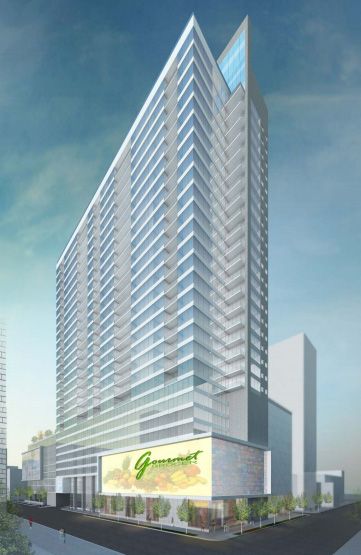 The developers of a proposed $77.8 million, 30-story luxury apartment tower at
Fourth and Race streets
have the City's go-ahead after City Council approved a development and lease agreement on June 12.
Indianapolis-based
Flaherty & Collins Development
plans to demolish the outdated Pogue's Garage and its attached vehicular ramp and Skywalk segment and replace it with the tower, which would include approximately 300 apartments, a 15,000-square-foot street-level grocery store, and 1,000 spaces of public garage parking.
To facilitate the development, the City will provide a $12 million loan that will be forgiven if the grocery store remains open for at least five years. It will also lease the parking garage to the developer for $1 a year for 75 years, after which time the developer has an option to purchase it for $1.
A 30-year project-based tax increment financing (TIF) district will be created, exempting property taxes on the improved value of the site. In exchange, Flaherty and Collins will provide more than $60 million in equity and will finance the remaining $5 million through federal New Markets Tax Credits.
Work is expected to begin early next year, and the project will take about two years to complete.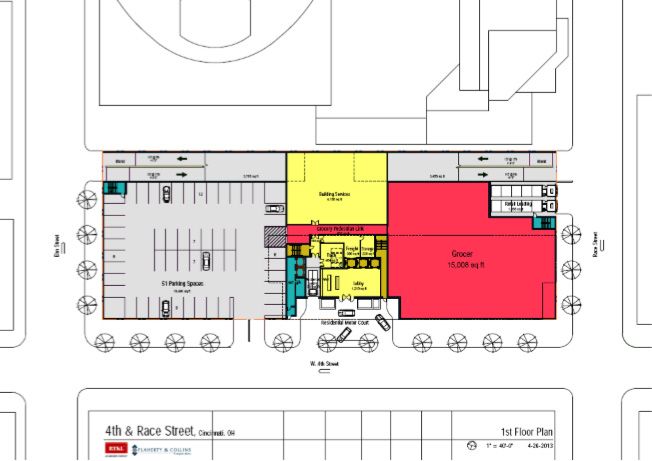 At least 650 temporary construction jobs will be created, and approximately 35 permanent full-time jobs will result.
The Pogue's Garage was built in 1967, five years after the department store was purchased by
Associated Dry Goods Corp. (ADG)
, at the time the third largest retailer in the United States.
Pogue's
was merged into ADG's
L.S. Ayres
and re-branded in 1983. In 1986, ADG was acquired by the
May Department Stores Company
and Downtown's L.S. Ayres closed in 1988.
The City's $12 million contribution is roughly equivalent to the cost of retrofitting or replacing the garage, which has multiple building code violations due to deferred maintenance and is not ADA-compliant.
The grocery store operator has yet to be named, but it is expected to be a new concept focusing on fresh and local ingredients and will be open from 7 A.M. to 10 P.M., at least 360 days a year.
Rents in the new apartments will range from between $1,000 and $2,000 per month.
Previous reading on BC:
Planning Commission Friday: Pogue's Garage, Hyatt, Northside redevelopment (6/6/13)
City sells Tower Place for $1; Parking and retail coming (5/21/13)
Dohoney: Parking Modernization Plan opens revenue stream, keeps City control (2/21/13)
City 'FAQs' address parking proposal misconceptions, concerns (12/21/12)
City plans offer for Tower Place in 9 days (11/20/12)