Northside is in the process of updating its
2006 Comprehensive Land Use Plan
, incorporating current community needs and realities that will help guide growth and development in the neighborhood over the next five to 15 years.
The 2006 plan provides recommendations and implementation strategies in four key areas: quality of life, housing, greenspace development, and commercial development. It also features specific target areas in which to focus additional attention.
Two public meetings were held last week at
McKie Recreation Center
to kick off the process of aligning the plan's categories with the new
Plan Cincinnati
, updating the future land use map, and updating the rezoning recommendation maps.
The Department of City Planning and Buildings and a neighborhood steering committee have suggested several new needs to add to the plan, including:
Creating prominent gateways at neighborhood entrances through the use of signage, monuments, buildings and public art;
Preserving the industrial employment base along the existing neighborhood industrial corridors and working to attract new tenants to the existing industrial areas along the Mill Creek;
Encouraging development in areas where interchange abandonment or reconfiguration will provide new developable land, such as the future elimination of the ramp from I-74 to the Colerain Avenue-Powers Street intersection; and
Encouraging "complete streets", especially along Hamilton Avenue;
A community open house will be held on July 24 to discuss the proposed new goals and strategies. The updated land use plan is tentatively scheduled for consideration by the Northside Community Council on August 19 and by the Northside Business Association on September 9.
Residents and stakeholders can also give their input on the plan through an
online survey
.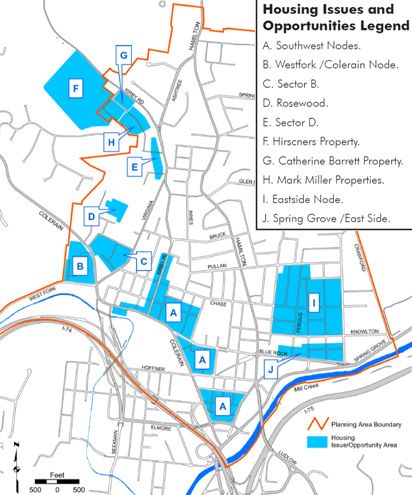 The Comprehensive Land Use Plan has been credited with several major improvements in Northside, including new
Chase
and Parker Woods schools, a renovated McKie Recreation Center,
American Can Lofts
,
Virginia Place
,
Northwind
, and the upcoming redevelopment of the Kirby Road School into market rate apartments and the former Myron G. Johnson & Son Lumber Co. site into apartment and retail use.
It also has led to a Citizens on Patrol program, new resident outreach initiatives, a new marketing and branding strategy, additional programming for children and teens, and new spaces and events to showcase the arts.
Previous reading on BC:
Northside zoning district expanded for senior apartments (6/7/13)
Northside CC supports Hamilton/Blue Rock project, sees designs (5/21/13)
Kirby Road School a local landmark, rehabilitation proceeding (3/5/13)
11th Citirama home show open in Northside (9/10/12)
Northside council wants CPS, CRC cooperation on Chase site (12/12/07)