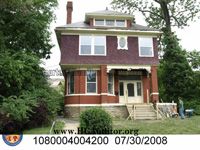 NEIGHBORHOOD:
Avondale
YEAR BUILT:
1900
USE:
Three-family dwelling
OWNER:
Deller Properties I
ASSESSED VALUE:
$67,870
ORDERS:
--
CONDEMNED:
February 2013, following a two-alarm fire that caused an estimated $75,000 in damage to the three-story house. Eight children and three adults were displaced, but none was injured. The fire caused significant damage to second- and third-floor framing members, holes in the roof and floors, unstable chimneys and dormers, burnt soffits and gutters, and a faulty fire escape.
HAZARD:
--
REASON RAZED:
Demolished by the owner to close out orders.
MAP