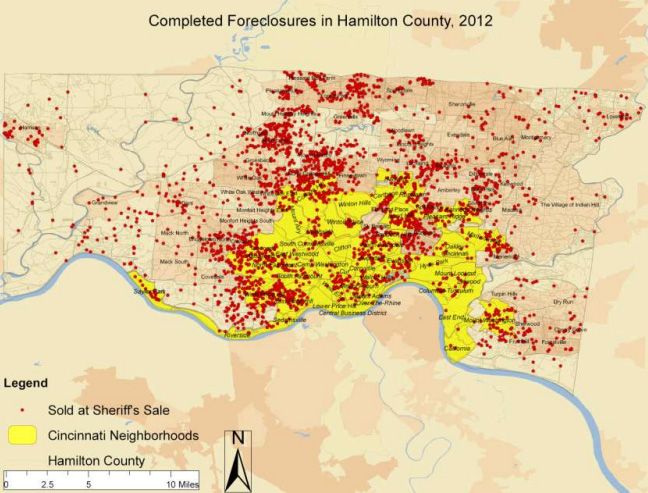 A report on Hamilton County's foreclosure numbers by nonprofit housing advocacy group
Working in Neighborhoods (WIN)
showed a 45.2 percent increase in completed sheriff's sales of foreclosed properties between 2011 and 2012.
The
44-page report
, released on April 30, includes trending data for the past seven years, a breakdown of foreclosure activity by lender, and case studies of the communities of College Hill, Elmwood Place, and Northside.
According to the study, Cincinnati led the way with 1,087 completed sheriff's sales, with Westwood, West Price Hill, College Hill, East Price Hill, and Bond Hill having the most. Outside of the City, Colerain Township, Springfield Township, Green Township, Forest Park, and Delhi Township had the most.
As a percentage of housing units, Columbia Tusculum, Spring Grove Village, California, Linwood, and Paddock Hills took the biggest hit. In the county, Arlington Heights, North College Hill, Golf Manor, Addyston, and Mount Healthy topped the list.
"This figure represents not just vacant buildings, but homeless, displaced families," said WIN Executive Director S. Barbara Busch. "So what do we do about all of this? Those families need help getting back on their feet."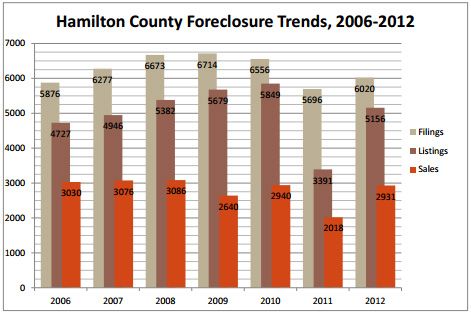 Seventy-eight percent of the county's foreclosures were attributed to the five banks that were sued by 49 state attorneys general for deceptive lending practices. Those five banks,
Wells Fargo
,
Citigroup
,
Bank of America
,
JP Morgan Chase
, and
Ally
, were part of a $25 billion settlement reached in February 2012.
"We believe these banks were holding foreclosures because they didn't know what to do with them until the terms of the settlement were decided," Busch said. "We hope the number of foreclosures goes down in 2013."
Busch said that the best way to end the crisis is for President Obama to appoint a permanent director of the
Federal Housing Finance Agency
who will require
Fannie Mae
and
Freddie Mac
to reduce the amount of principal owed on "underwater" homes to their real value.
Communities United for Action (CUFA)
President Roger Davis agreed that the banks hold some accountability to the communities they serve.
In January, CUFA called for the pilot Vacant-Foreclosed Registration Program (VFRP) to be expanded to all 52 Cincinnati neighborhoods – even before real quantifiable results had been produced.
Under terms of the VFRP, lenders who foreclose on a property must pay a $500 registration fee within ten days of the property becoming vacant. An annual filing is required until the property is sold at a judicial sale, is transferred to an owner-occupant, or makes its way into the hands of a third party.
Lenders also must refrain from posting signs or placards indicating that the property is vacant or foreclosed, keep the grass and weeds to ten inches or less in height, keep the property litter-free, and make sure that the structure is secure and locked.
Launched in the five neighborhoods with the most foreclosures between 2007 and 2011 – College Hill, East Price Hill, Madisonville, West Price Hill, and Westwood – the program has collected nearly $80,000 so far.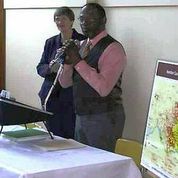 CUFA reiterated its support for the VFRP following the report's release.
"CUFA won't quit," Davis said. "We can't quit, and we will win on these issues," he said.
WIN, which has produced its annual report on foreclosures since 2002, promised to keep plugging away as well.
On May 14, it welcomed a family into a newly-renovated home at 1817 Elmore Street in South Cumminsville. The home is part of the $1.3 million, 24-home Borden Corridor Redevelopment Project, a partnership with the South Cumminsville Community Council to raise the neighborhood's 54 percent homeownership rate.
"Without us, this report would look much, much worse," Busch said.
Ohio saw a 12.8 percent increase in foreclosure filings last year, compared to a 2.7 percent decrease nationwide. In April, one in 905 U.S. households received a foreclosure filing – the lowest level of foreclosure activity since February 2007.
Photo provided
Previous reading on BC:
Ohio foreclosure program expands benefits, increases eligibility (2/4/13)
Halfway through program, CUFA wants foreclosure pilot for 52 neighborhoods (1/30/13)
Ohio foreclosure prevention effort reaches $100M milestone (12/20/12)
Sale of vacant land to aid in Borden Street revitalization (7/9/12)
South Cumminsville board meets with Crowley on problem properties (3/11/08)