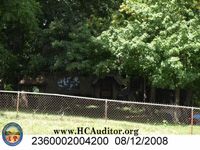 NEIGHBORHOOD:
College Hill
YEAR BUILT:
1935
USE:
Single-family dwelling
OWNER:
Andrew Kyle, Jr.
ASSESSED VALUE:
$96,550
ORDERS:
April 2009, for roof, windows, gutters and downspouts, and a dilapidated fence.
CONDEMNED:
February 2010, adding exterior paint, litter, missing and vandalized mechanicals, and a lack of utility service.
HAZARD:
May 2010. By 2013, the house had been abandoned for three or four years and the driveway was being used as a dump.
REASON RAZED:
Declared a public nuisance and entered into the City's hazard abatement program.
MAP