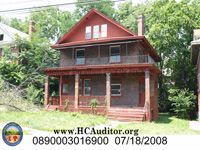 NEIGHBORHOOD:
Mount Auburn
YEAR BUILT:
1910
USE:
Two-family dwelling
OWNER:
Property Makeovers LLC
ASSESSED VALUE:
$1,670
ORDERS:
March 2008, ordered vacated and barricaded due to a lack of water service and utilities, as well as several exterior violations. In October 2008, the City decided not to file criminal charges against the owner because of multiple charges against him. He had moved out of state and was not responding to the City's orders.
CONDEMNED:
October 2008.
HAZARD:
March 2009, citing an open roof, damaged cornice, gutters and downspouts, broken and missing windows, and a collapsing chimney. In August 2012, the current owner walked through the property with City inspectors and said that he was applying for a loan to renovate the building. The roof damage and cracked masonry had allowed water to enter the building, and there was a significant mold problem.
REASON RAZED:
Declared a public nuisance and entered into the City's hazard abatement program. Demolished using Moving Ohio Forward program funds.
MAP