Smale Riverfront Park
will more than double in size during a dedication and opening of the Duke Energy Garden and the Women's Committee Garden scheduled for this May, according to a new construction update video featuring project manager Dave Prather.
According to Prather, approximately 120 trees have been planted in the Duke Energy Garden. Granite sitting walls and light fixtures have been installed, and the 12 family-sized swings will be installed within the next few weeks.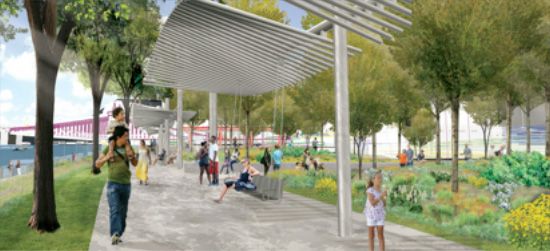 "It's going to be a similar kind of continuation – a slightly different character – but same degree of planting that we showed you in the Black Brigade, and we're eagerly awaiting to bloom out," Prather said. "So it's going to be a pretty showy landscape this spring."
The seasonal Women's Committee Garden also has its granite seat walls installed and will soon have new concrete poured and granite pavers completed.
Work also continues on the modification of the 1960's river wall, which will be rebuilt to accommodate a riverwalk that will provide access to a yet unfunded 1,000-foot-long transient boat dock. The PNC Grow Up Great Adventure Playground, being built just east of the
John A. Roebling Suspension Bridge
and south of Mehring Way, will open in May 2014.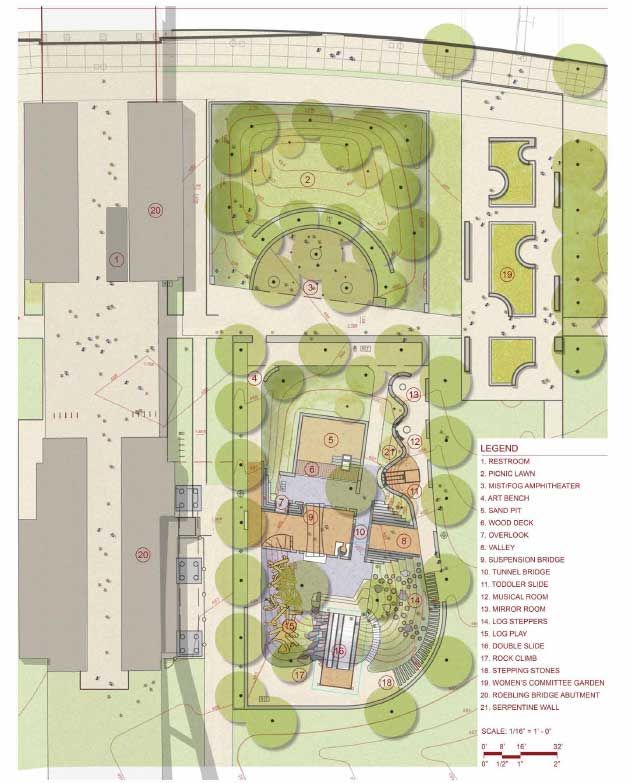 "We're going to bring in one-of-a-kind pieces that you'll have to come to Smale Park to see," Prather said.
Construction could be accelerated with an influx of $4 million from a $92 million upfront payment that the City could receive as part of its
Parking Modernization Plan
. Passed by City Council nearly two weeks ago, the plan to lease of the City's parking assets is currently in litigation.
That funding could be used to build the Vine Street Fountain & Stairs, carousel, and carousel building in time for the 2015 Major League Baseball All-Star Game.
Whatever the timeline, the project team will continue pushing toward a 2017 completion date.
"We'll be ready to cut another ribbon [in May], but also continue with more construction for Smale Riverfront Park," Prather said.
Previous reading on BC:
Dohoney: Parking Modernization Plan opens revenue stream, keeps City control (2/21/13)
Cincinnati riverfront plan wins national award (1/11/13)
Smale project manager details continuing construction in video update (12/19/12)
Duke Energy provides $450K for Smale garden (10/31/12)
City to pursue $3.8M grant for Smale boat dock (8/6/12)