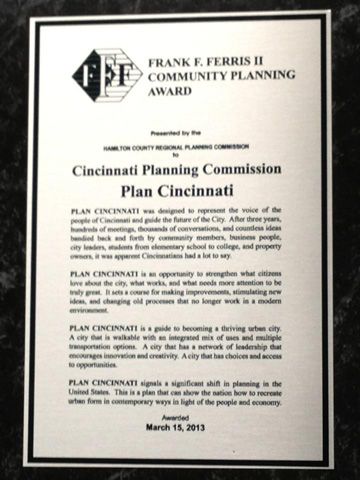 PLAN Cincinnati
has won the 2013 Frank F. Ferris II Community Planning Award from the
Hamilton County Regional Planning Commission (HCRPC)
.
The award, an annual recognition of local planning commissions or committees whose plans "have contributed to the elevation of planning principles, greater awareness of the value of planning, and improved quality of life", was presented Friday at the annual meeting of the
Hamilton County Planning Partnership
.
The comprehensive master plan, adopted by City Council in November, outlines long-range strategies to promote growth, protect the environment, and influence future development through the five initiative areas of "compete", "connect", "live", "sustain", and "collaborate".
Development of the plan, the City's first since the Coordinated City Plan of 1980, began in 2009.
"PLAN Cincinnati engaged business leaders and thousands of Cincinnati residents and community organizations from all 52 neighborhoods as part of a collaborative four-year process," Department of Planning and Buildings Director Charles Graves said in a prepared release. "We are pleased to have our efforts recognized with such a prestigious award."
The 222-page plan will continue to evolve as needed and will be subject to review during the City's annual budget process, said City Planning Commission Chair and PLAN Cincinnati Steering Committee Co-Chair Caleb Faux.
"We certainly do not intend for PLAN Cincinnati to sit on a shelf and gather dust," Faux said. "Our last Plan was written in the 1980s and this planning process was long overdue. What we have now helps design and inform our future."
"Over time, we will work with other City departments to adjust the plan to meet current needs while maintaining an overall integrated approach," Graves said. "We now have an overarching plan that will build on the assets we already have."
Created by the HCRPC in 1995, the Frank F. Ferris II Community Planning Award recognizes and honors the lifelong dedication of Frank F. Ferris II to municipal, county, and regional planning activities.
Past winners include the Villas of the Valley Redevelopment Plan in Lincoln Heights (2012), the
Greenhills Comprehensive Plan (2010)
,
Price Hill Will's
Glenway Market Study and Redevelopment Plan (2009), and the City of Cincinnati Climate Protection Steering Committee for its
Green Cincinnati Plan (2008)
.
Image courtesy of PLAN Cincinnati (source)
Previous reading on BC:
Nominations being accepted for Hamilton County planning award (1/11/13)
Planning Commission adopts Cincinnati master plan (10/22/12)
Cincinnati's draft master plan completed (8/21/12)
Comments sought on Plan Cincinnati (3/29/12)
Greenhills wins county planning award (3/16/11)