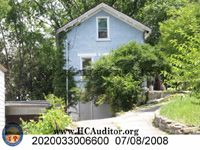 NEIGHBORHOOD:
North Fairmount
YEAR BUILT:
1900
USE:
Single-family dwelling
OWNER:
David McDaniel
ASSESSED VALUE:
$17,630
ORDERS:
January 2007, ordered vacated with citations for windows, exterior doors, smoke detectors, plaster, water leaks and damage, interior doors, electric fixtures, obstructed flues, water heater, deficient wiring, vermin, and a lack of heat. Ordered barricaded in June 2007. The current owner cleaned out the building after acquiring it in May 2008. On October 16, 2012, a one-alarm fire caused $10,000 in damage to the structure. A second fire on November 23, 2012 caused an additional $20,000 in damage.
CONDEMNED:
December 2012, due to fire damage that compromised the building's framing members, windows, stairs, floors and gutters.
HAZARD:
--
REASON RAZED:
Demolished by the owner to close out orders.
MAP