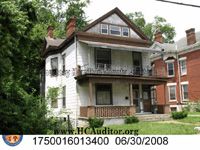 NEIGHBORHOOD:
East Price Hill
YEAR BUILT:
1905
USE:
Two-family dwelling
OWNER:
B&B Real Estate Investment
ASSESSED VALUE:
$5,000
ORDERS:
August 2009, for flashing, gutters and downspouts, cornice, and soffit. Very little progress made on repairs. Ordered vacated and barricaded in February 2012, citing weather damage and additional damage to the chimneys, siding, windows and front steps. The building had no utility service and many of its mechanicals were missing or vandalized.
CONDEMNED:
--
HAZARD:
--
REASON RAZED:
Razed by the owner to close out orders.
MAP