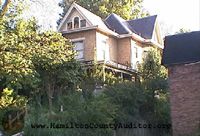 NEIGHBORHOOD:
Northside
YEAR BUILT:
1890-1920
USE:
Single-family dwelling
OWNER:
James L. and Gloria D. Walker
ASSESSED VALUE:
$40,300
ORDERS:
--
CONDEMNED:
September 2012, for a fire causing $90,000 in damage to the roof decking, shingles, rafters, gutters and downspouts, cornice, siding, windows, wall and floor framing, and mechanicals. An elderly resident was found exiting the structure, and two dogs were injured. One cat was killed.
HAZARD:
--
REASON RAZED:
Razed by the owner to close out orders.
MAP