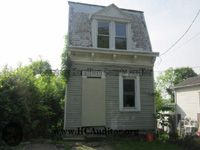 NEIGHBORHOOD:
Columbia Tusculum
YEAR BUILT:
1900
USE:
Two-family dwelling
OWNER:
MGDK Investments LLC
ASSESSED VALUE:
$24,840
ORDERS:
April 2005, ordered vacated and barricaded due to its illegal use as storage for commercial carpeting and other rubbish. Orders were reissued in June 2007 due to the passage of time. A criminal case was filed against the former owner in November 2008, and he later plead no contest. Sentenced to a pittance.
CONDEMNED:
December 2010, with the interior completely gutted. The porch on the left side of the structure collapsed, allowing water damage. Additional problems included open mortar joints in the foundation, broken and missing windows, defective gutters and downspouts, and missing siding.
HAZARD:
May 2011. In August 2012, the property was acquired by the current owner at sheriff's sale.
REASON RAZED:
Declared a public nuisance and entered into the City's hazard abatement program.
MAP