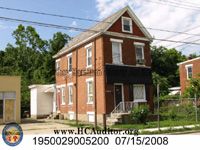 NEIGHBORHOOD:
Northside
YEAR BUILT:
circa 1900-1920
USE:
Two-family dwelling
OWNER:
Joleen Inc.
ASSESSED VALUE:
$77,650
ORDERS:
December 2007, for chimney, guardrails and handrails, electric fixtures, exterior doors, roof, exterior paint, soffit, gutters and downspouts, and litter. Orders reissued in May 2011 for porch, exterior paint, chimney, and roof. The owner was in litigation with the
Ohio Department of Transportation (ODOT)
over the property. Reissued for the same prior problems in March 2012.
CONDEMNED:
--
HAZARD:
--
REASON RAZED:
Apparently demolished by the owner to close out orders, as records still show it as the property holder. It's likely that this is a case where ODOT needs the property for future improvements to the I-74/Colerain/Beekman interchange.
MAP