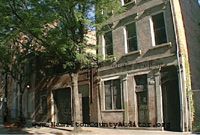 NEIGHBORHOOD:
Over-the-Rhine
YEAR BUILT:
circa 1910-1930
USE:
Commercial warehouse/garage
OWNER:
Over-the-Rhine Community Housing
ASSESSED VALUE:
$36,350
ORDERS:
October 2007, for falling and missing bricks.
CONDEMNED:
April 2009, for collapsing masonry walls.
HAZARD:
--
REASON RAZED:
Razed by the owner to close out orders following a historic review. Property to be incorporated into redevelopment.
MAP