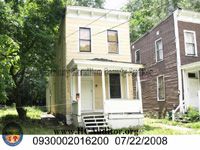 NEIGHBORHOOD:
Mount Auburn
YEAR BUILT:
1895
USE:
Single-family dwelling
OWNER:
Charles Levon Horton
ASSESSED VALUE:
$5,360
ORDERS:
January 2009, ordered vacated and barricaded due to a lack of gas service, structural problems with the porch, and a lack of exterior paint. The same orders were reissued in November 2010. A month later, Horton told City inspectors that he was working on the building and could have it occupied within two years. His Vacant Building Maintenance License (VBML) fee appeal before the Board of Housing Appeals was denied due to a sinking interior wall.
CONDEMNED:
October 2012, for rotten studs and joists, a sagging floor, broken windows, missing siding, a rotted and leaning front porch, a hole in the second floor, vandalism, and debris.
HAZARD:
--
REASON RAZED:
Demolished by the owner to close out orders.
MAP