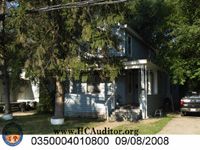 NEIGHBORHOOD:
Madisonville
YEAR BUILT:
1900
USE:
Single-family dwelling
OWNER:
Meharpal Khanna (San Jose, CA)
ASSESSED VALUE:
$8,500
ORDERS:
--
CONDEMNED:
January 2011, for damaged exterior walls exposing studs and insulation, collapsing chimneys, falling bricks, and a rotting porch. At the time, it was bank-owned.
HAZARD:
September 2011, issued to a new owner. Gutter and downspout damage added. In February 2012, a chimney collapsed and dumped bricks onto a car, and the whole left side of the building was in a state of collapse. Condemnation orders were reissued, then again in June 2012. The property was purchased by Khanna for $2,100 on September 17, 2012 and demolished in early October.
REASON RAZED:
Declared a public nuisance and entered into the City's hazard abatement program.
MAP