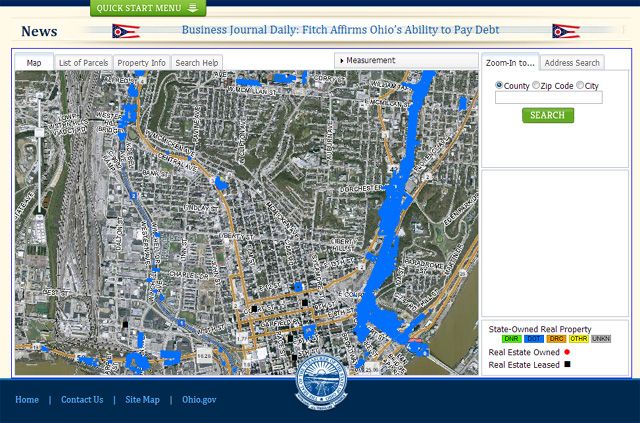 A new interactive map
produced by the Office of Ohio Treasurer Josh Mandel makes it easier for Ohioans to view and search detailed information on an estimated 36,000 state-owned buildings and properties.
Searchable by county, zip code, city or address, Mandel believes that the new tool will promote economic development and help save the state money.
"My hope is that property owners and residents across the state will leverage this technology to help provide feedback on any properties that may be underutilized or surplus so that the state can sell them or put them to better use," Mandel said in a prepared release. "Surplus properties that we can take off of state rolls and sell should help provide opportunities for economic development while increasing the local tax base."
Properties are color-coded based on the agency that owns the land, and state-owned buildings are identified with a red dot. Users can also zoom in to see photographs of each site.
The data and software used in the mapping tool is provided by the
Ohio Geographically Referenced Information Program (OGRIP)
, which is part of the Department of Administrative Service's Office of Information Technology.
"We are happy to partner with OGRIP to make geographic imaging software and online maps of state properties and buildings available to the public," Mandel said. "It is a great use of technology to engage Ohioans and allow them to weigh in on state properties in their areas."