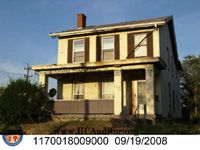 NEIGHBORHOOD:
Pleasant Ridge
YEAR BUILT:
1901
USE:
Two-family dwelling
OWNER:
Ardell D. Scales
ASSESSED VALUE:
$82,320
ORDERS:
April 2009, for exterior paint, soffit, gutters and downspouts, flashing, and roof. A criminal case was filed October 2009. Housing diversion was granted in February 2010.
CONDEMNED:
December 2010, vacant and open to trespassers. Additional issues cited included broken and missing doors, cornice, and high weeds and rubbish. Late that month, it was discovered that the owner was deceased, with no probate action.
HAZARD:
August 2011, adding broken and missing windows.
REASON RAZED:
Declared a public nuisance and entered into the City's hazard abatement program.
MAP