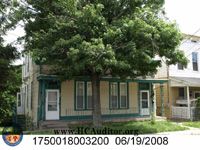 NEIGHBORHOOD:
East Price Hill
YEAR BUILT:
1893
USE:
Multi-family dwelling
OWNER:
Velda D. McCants
ASSESSED VALUE:
$45,310
ORDERS:
August 2008, for a collapsing front porch, soffit, gutters and downspouts.
CONDEMNED:
May 2009, open to trespassers and vandalized, with rear foundation failure. In May 2010, the front proch collapsed after its wrought iron supports were stolen. A criminal case was filed a month later, with diversion eventually granted.
HAZARD:
November 2010, adding a defective chimney, roof damage, and missing and broken windows. At some point in early 2011, the building was lost to foreclosure.
REASON RAZED:
Declared a public nuisance and entered into the City's hazard abatement program. This demolition is one of two featured as part of the City's local kickoff of the state's Moving Ohio Forward demolition program,
the Cincinnati Enquirer reported
.
MAP