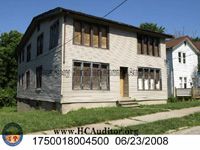 NEIGHBORHOOD:
East Price Hill
YEAR BUILT:
1926
USE:
Multi-family dwelling
OWNER:
R. Orlino & Associates LLC (Elizabeth, N.J.)
ASSESSED VALUE:
$16,000
ORDERS:
November 2004, ordered vacated and barricaded for exterior walls, defective flooring, plaster, and trash. Orders were reissued in March 2007.
CONDEMNED:
June 2009, adding a damaged roof, water damage, missing siding, doors, broken and missing windows, and weeds. The current owner took control of the property in December 2009, and orders were reissued in March 2010 and again in March 2011.
HAZARD:
August 2011, adding missing and vandalized mechanicals.
REASON RAZED:
Declared a public nuisance and entered into the City's hazard abatement program.
MAP