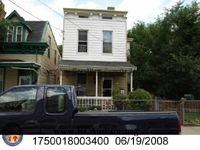 NEIGHBORHOOD:
East Price Hill
YEAR BUILT:
1885
USE:
Single-family dwelling
OWNER:
Judy K. Statton
ASSESSED VALUE:
$29,610
HAZARD:
March 2012.
CONDEMNED:
June 2011, for severe structural damage from a fire, which also damaged the siding, doors, windows, walls, wiring, plumbing, and heating systems. A criminal case was filed against Ms. Statton in December 2011. The case is still pending.
ORDERS:
--
REASON RAZED:
Declared a public nuisance and entered into the City's hazard abatement program. This demolition is one of two featured as part of the City's local kickoff of the state's Moving Ohio Forward demolition program,
the Cincinnati Enquirer reported
.
MAP