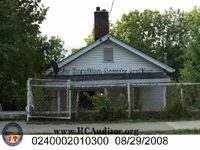 NEIGHBORHOOD:
Columbia Tusculum
YEAR BUILT:
1900
USE:
Single-family dwelling
OWNER:
Marilyn Lou and Theodore R. Pairan
ASSESSED VALUE:
$20,690
HAZARD:
May 2011.
CONDEMNED:
December 2010, for cornice, gutter and roof problems allowing water into the building. Also, broken windows were allowing vagrants to enter. In December 2010, the City discovered that the owners were deceased. Their son told the City that the mortgage company was supposed to foreclose on the property, and that he had no interest in it.
ORDERS:
November 2005, but compliance achieved in June 2006.
REASON RAZED:
Declared a public nuisance and entered into the City's hazard abatement program.
MAP