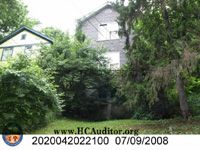 NEIGHBORHOOD:
South Fairmount
YEAR BUILT:
1887
USE:
Single-family dwelling
OWNER:
Joe and Mary Wilmore
ASSESSED VALUE:
$11,740
HAZARD:
March 2010, adding missing siding and excessive rubbish.
CONDEMNED:
October 2009, adding a rotting porch, damaged egress stairs, and a lack of protective paint.
ORDERS:
March 2009, ordered vacated and barricaded for cornice and windows and lack of utilities. Water service had been shut off since 1998. It appears that the owners passed away, and the property was being held up through probate. The owner's son told City inspectors that the family lacked the funds to bring the structure up to code.
REASON RAZED:
Declared a public nuisance and entered into the City's hazard abatement program.
MAP