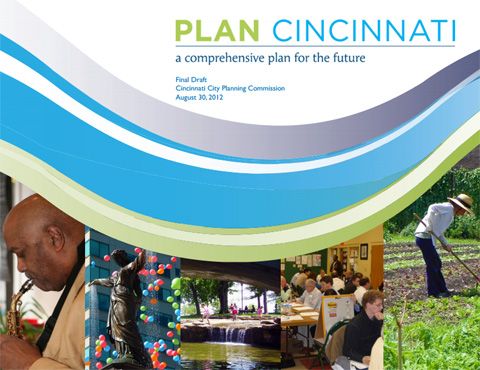 Following more than three years of work, Cincinnati's new comprehensive master plan moved closer to reality Friday following its adoption by the City Planning Commission.
The approved
Plan Cincinnati
document includes several dozen language changes, alterations, and recommendations collected during public hearings held before the commission in August and in September.
The 222-page plan, which is expected to guide the City's growth for at least the next decade, focuses on economic competitiveness, connectivity, livability, sustainability, and intergovernmental collaboration.
City Council still must approve the plan. If approved, the plan's steering committee will transition into an implementation committee, prioritizing goals, setting timelines, lining up project partners, and identifying sources of funding.
The plan will be reviewed annually during the budget process, and will be updated every five years to assess its progress and to make any necessary strategy adjustments.
More than three years of work has gone into the development of Plan Cincinnati, the City's first comprehensive master plan since the Coordinated City Plan of 1980.
Previous reading on BC:
Cincinnati's draft master plan completed (8/21/12)
Two days remain to comment on draft City master plan (4/19/10)
Comments sought on Plan Cincinnati (3/29/12)
Final master plan learning forum this Thursday (8/23/10)
Cincinnati master plan forum to examine local planning efforts (8/2/10)