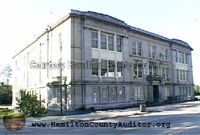 NEIGHBORHOOD:
East End
YEAR BUILT:
1909
USE:
School
OWNER:
River Park Properties LLC (Newark, OH)
ASSESSED VALUE:
$345,000
HAZARD:
--
CONDEMNED:
--
ORDERS:
November 2010, ordered vacated and barricaded due to open or missing doors and windows, missing and vandalized mechanical systems, missing downspouts causing water damage to the masonry, and litter and debris. The building was obtained through foreclosure in January 2012. Orders were reissued in April 2012, adding significantly more water damage and mold due to stolen roof flashing.
REASON RAZED:
Formerly known as Highlands School and East End Community Heritage School, the building was purchased by DCI Properties in December 2005 for $650,000. The developer planned to begin renovations in 2006 for a project that was to include housing and retail tenants that could have included a restaurant, a deli, and a salon. The economic downturn, an inability to secure historic tax credits and other funding, it location in a flood plain, and the developer's claims of difficulty dealing with the City killed the plan, and DCI Properties abandoned future proposals for its East End properties. The building was razed by the current owner, at a cost of $50,000, to close out orders and avoid future maintenance.
MAP
DEMOLITION PHOTOS