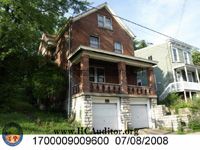 NEIGHBORHOOD:
South Fairmount
YEAR BUILT:
1926
USE:
Three-family dwelling
OWNER:
Lenisha and Lionel Chambers
ASSESSED VALUE:
$39,760
HAZARD:
January 2012. The criminal case against Ms. Chambers was dropped, and the case against Mr. Chambers continued until eventually dismissed in August 2012.
CONDEMNED:
October 2009, due to rotten or collpasing roof, walls, and floors and missing or vandalized mechanicals. A criminal case was filed against each owner in December 2010.
ORDERS:
September 2008, for gutters and downspouts, windows, steps, handrails, exterior doors, smoke detectors, and a lack of hot water.
REASON RAZED:
Declared a public nuisance and entered into the City's hazard abatement program. The cost of demolition was $11,000.
MAP