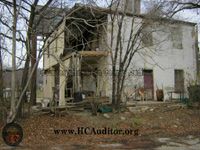 NEIGHBORHOOD:
South Fairmount
YEAR BUILT:
1900
USE:
Three-family dwelling
OWNER:
Steven Ritter
ASSESSED VALUE:
$13,240
ORDERS:
December 2002, for a rotting porch and defective siding. Reissued in February 2004, adding steps, windows, masonry, cornice, gutters and downspouts, and fence. Reissued in March 2007.
CONDEMNED:
October 2009, currently in criminal status.
HAZARD:
July 2011. In June 2012, the City gave Ritter notice to clear out his belongings.
REASON RAZED:
Declared a public nuisance and entered into the City's hazard abatement program.
MAP