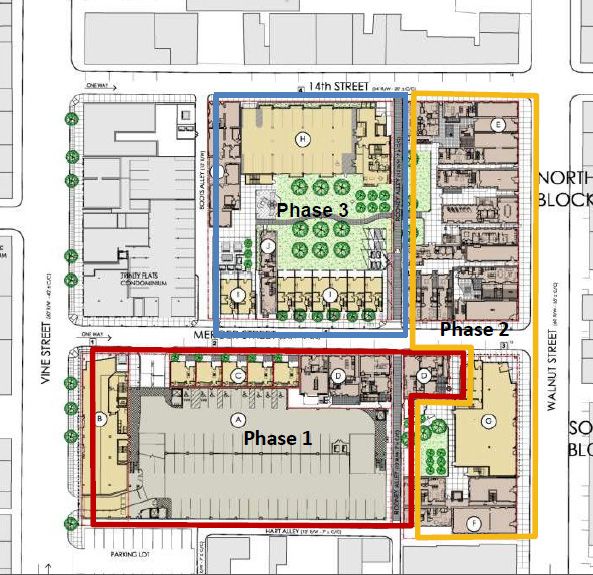 Last Wednesday, Cincinnati City Council approved more than $14 million in funding for master developer
Cincinnati Center City Development Corporation's (3CDC)
continued work in Over-the-Rhine.
The first package of ordinances authorized the issuance of $5.5 million in bonds for the second phase of Mercer Commons, a $22.3 million project that includes the renovation of 13 buildings and the construction of one new building and will result in 67 residential rental units and 10,600 square feet of commercial space
along the 1300 block of Walnut Street and at 31 Mercer Street
.
Council also approved an eight-year Community Reinvestment Area (CRA) tax exemption with developer
McCormack Baron Salazar
affiliate Mercer Commons, LP for the development's residential component and a 12-year CRA tax exemption with 3CDC affiliate Gateway II, LLC for the project's commercial component. The exemptions will lower the development's property tax liability by $1.4 million and $487,000, respectively.
Another package of ordinances authorized a $3.9 million City capital grant and the issuance of $2 million in bonds for the fifth phase of the
Gateway Quarter
development, a $29.7 million project that will result in 65 residential homeownership units, 23 residential rental units, and 17,900 square feet of commercial space centered around Race, Elm, and Republic streets. The funding agreement allows for an additional $1.5 million in City capital funds in 2013, when they become available.
Eight-year CRA tax exemption agreements were approved for the 9-unit Parvis II apartment project at 1406 and 1412 Republic Street and for the 14-unit B-Side Apartments at W 15th and Republic streets. These exemptions will lower the development's property tax liability by $182,320 and $362,560, respectively.
Council also authorized the expenditure of $650,000 in Department of Transportation and Engineering capital funds for the construction of streetscape improvements at the project sites.
The bond funding will come from a newly-established bond pool called Focus 52, which will fund economic development projects throughout the City's 52 neighborhoods – specifically in the growth opportunity areas identified in the 2008 GO Cincinnati plan. Council transferred $600,000 in un-appropriated surplus funds to service the first year of debt on those bonds.
Images courtesy of 3CDC
Previous reading on BC:
City West money to aid $25M YMCA redevelopment (10/8/12)
Council supports historic tax credits for Downtown, OTR, Walnut Hills projects (10/2/12)
Photos: Washington Park, pre-opening (8/13/12)
The payoff: $59M Mercer Commons breaks ground in OTR (6/27/12)
GO Cincinnati adopted as official development strategy (1/5/10)