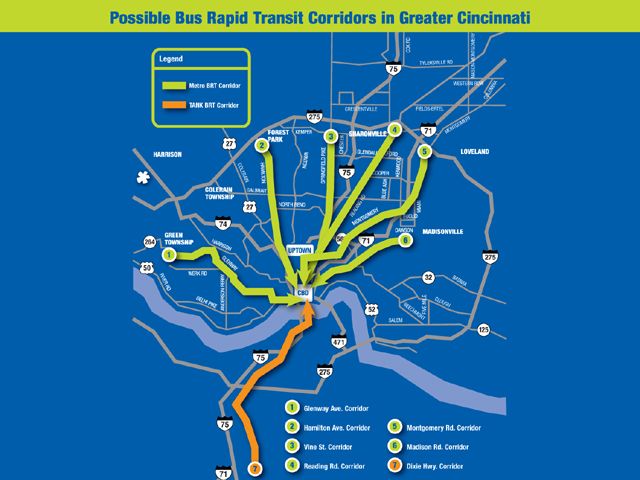 Cincinnati will take its first tentative steps toward a bus rapid transit (BRT) system next year with a pilot service called Metro*Plus, which will provide limited-stop transportation along the Montgomery Road corridor between Downtown and Kenwood.
BRT provides faster, limited-stop service along major traffic corridors, often with more amenities than standard bus service. Often, travel times are improved through traffic signal priority or special bus lanes, with stations generally spaced a mile apart.
Cities are increasingly looking at BRT as an attractive alternative to light rail for moving commuters due to its flexibility and lower cost. More than two dozen BRT lines are currently in operation in the United States, with more than three dozen in development.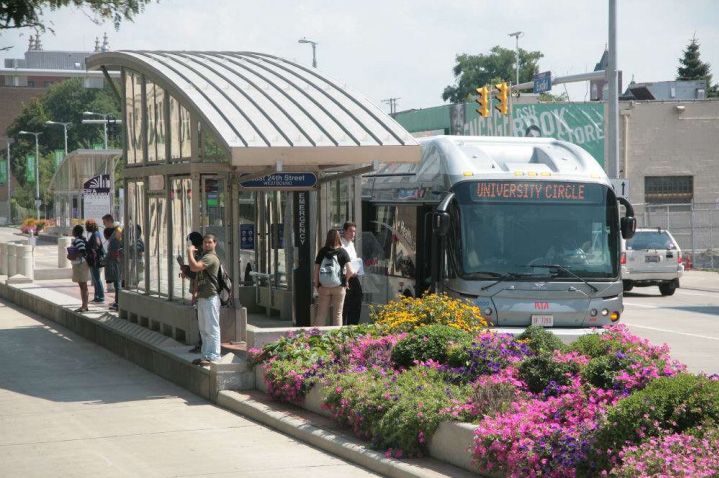 Regionally, Pittsburgh has used dedicated busways for more than 25 years, with its three BRT routes serving more than 50,000 riders per day. In its first year, Cleveland's 9-mile
HealthLine
, which connects Downtown and University Circle along Euclid Avenue, produced a 56 percent increase in ridership over the old Number 6 bus line.
Based upon a preliminary analysis performed as part of
Metro's
updated regional transit planning, future BRT corridors could include Reading Road, Hamilton Avenue, Glenway Avenue, Madison Road and Vine Street in Cincinnati, as well as a "TANK*Plus" service on Dixie Highway in Northern Kentucky.
Images courtesy of Metro
Previous reading on BC:
Metro announces plans for $6.9M Uptown Transit District (10/23/12)
$2.5M FTA grant to provide Metro with six more 'mini-hybrid' buses (7/25/12)
Cincinnati group attends intensive bus rapid transit workshop (3/29/12)
Metro to update regional transit plan, study Uptown service (3/15/12)
Moore: BRT study should begin 'as soon as possible' (2/28/11)