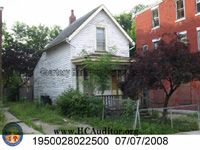 NEIGHBORHOOD:
Northside
YEAR BUILT:
1865
USE:
Single-family dwelling
OWNER:
Cincinnati Northside Community Urban Redevelopment Corporation (CNCURC)
ASSESSED VALUE:
$26,650
ORDERS:
January 2008, for cornice, a rotted porch, and exterior paint.
CONDEMNED:
June 2009, now with broken windows, hazardous front steps, litter and debris, and overgrown weeds. The building required numerous City barricades to keep out trespassers. Orders were reissued to a new owner in August 2009.
HAZARD:
May 2010, adding damaged siding, gutters and downspouts. The property caught fire in February 2011, three days after a family of six was moved in. The Cincinnati Fire Department determined that the fire was started by boxes of clothing being stored too close to electrical wires. Ordered vacated in September 2011 due to illegal occupancy.
REASON RAZED:
Declared a public nuisance and entered into the City's hazard abatement program.
MAP