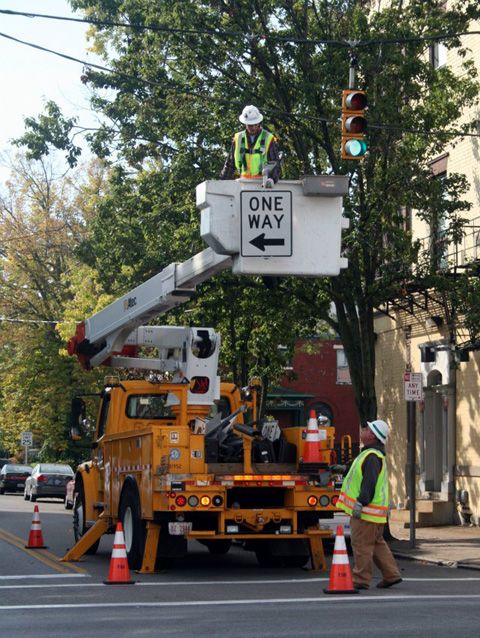 A major step in restoring Walnut Hills' East McMillan Street neighborhood business district has been achieved with the return of two-way traffic to what had once been one-way streets.
A Saturday ribbon-cutting ceremony opened E McMillan Street to two-way traffic
between Victory Parkway and May Street
. Next Saturday, William Howard Taft Road will be converted to two-way traffic, also between Victory and May.
A 2002 Taft-McMillan Corridor Study prepared for the City provided two alternatives to restoring two-way traffic. However, it wasn't until an April 2010 motion by Vice Mayor Roxanne Qualls that the City's Department of Transportation and Engineering began working with community leaders on a solution that would strike a balance between residents' quality of life and the need to move people.
The Walnut Hills Transportation Working Group, consisting of residents and members of the community council, business association, and redevelopment foundation, approved the City's study on May 16.
"It is quite a testament to the persistence of the Walnut Hills community that this day has actually come," Qualls said. "It has taken 45 years to reverse what we feel – what the Walnut Hills community feels – was a decision that contributed to the decline of this business district."
Both streets were converted to one-way traffic in the late 1960s, which many residents blame for accelerating the decline of what was once the City's second busiest commercial center by changing its character from being a high-density, pedestrian friendly neighborhood destination to being a "raceway" for commuters seeking quicker access to Interstate 71.
Now, work is underway to rehabilitate several buildings along the corridor. Early next year, the City expects to issue a request for proposals to developers for further building rehabilitation and infill on properties it purchased in 2010.
"This conversion back to two-way is one of a handful of critical steps that's necessary to actually continue the revitalization of this community into what it actually was once and can be again – a very attractive, walkable neighborhood where people want to live, work, and play," Qualls said.
Previous reading on BC:
City to lease Walnut Hills buildings for redevelopment (9/25/12)
Conversion of Taft and E McMillan should wait, report says (8/9/10)
Qualls motion seen as key to revitalizing Peebles Corner (4/15/10)
Peebles Corner rejuvenation could begin early next year (12/9/09)
Capital, CDBG accounts approved for Peebles Corner (9/29/09)