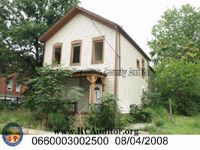 NEIGHBORHOOD:
Walnut Hills
YEAR BUILT:
1890
USE:
Three-family dwelling
OWNER:
Quimberly and Dante Winstead
ASSESSED VALUE:
$47,230
HAZARD:
September 2009. In August 2010, Mr. Winstead was removed from the program and given a 180-day suspended jail sentence, one year of probation, and court costs. This property may have been lost through tax foreclosure last year.
CONDEMNED:
July 2009, now completely open to the elements and becoming a site for illegal dumping and other debris. A criminal case was filed against each owner that same month, with Mr. Winstead eventually entered into a housing compliance program.
ORDERS:
December 2004, the foreclosed home was ordered vacated and barricaded. Orders were reissued to a new owner in February 2005. Transferred to current owners through survivorship deed in August 2005, and the violations were corrected that October. By 2008, the building again had become vacant and was ordered barricaded.
REASON RAZED:
Declared a public nuisance and entered into the City's hazard abatement program.
MAP