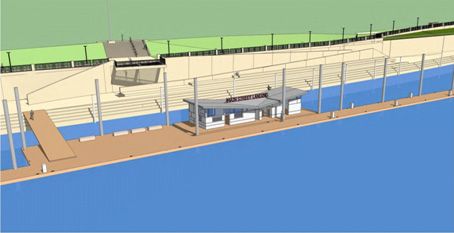 At its meeting last Wednesday, Cincinnati City Council unanimously approved a grant application for $3.8 million from the
Ohio Department of Natural Resources Division of Watercraft
for a 1,000-foot transient boat dock at
Smale Riverfront Park
.
The $5 million facility, meant to accommodate boats staying for ten days or less, will have space for 56 boats and will include water and electric service. A "head boat", Main Street Landing, will house an office, concessions, restrooms, showers, storage, and laundry facilities.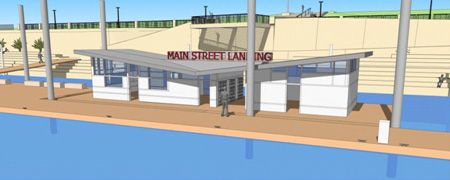 Steven Schuckman, superintendent of planning, design and facilities for the
Cincinnati Park Board
, says that the boat dock was always planned as a major feature of the park.
"Since Smale Riverfront Park is about bringing people back to the river, the dock is a key element, and the activity of boats docking is an attraction for park visitors," he says. "Our conversations with boating enthusiasts in the area shows a keen interest in this new facility."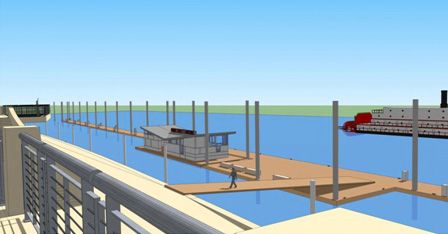 If the grant is awarded early next year, Cincinnati's 25 percent local match of $950,000 will come from capital budget resources already dedicated to the park.
Images courtesy of the Cincinnati Park Board.
Previous reading on BC:
Photos: Catching up with Moerlein, Smale, Elberon, and East Price Hill (7/20/12)
Cincinnati Bike Center opens on riverfront (5/9/12)
Photos: Random shots from March and April, including Bond Hill and Silverton (4/27/12)
Construction photos: Smale Riverfront Park, Westwood, East Price Hill, 4/4/12 (4/4/12)
Limited edition scarves, luncheon to benefit riverfront park (4/5/11)