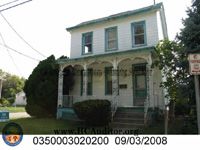 NEIGHBORHOOD:
Madisonville
YEAR BUILT:
1870
USE:
Two-family dwelling
OWNER:
The Cincinnati Bible Way Church Inc.
ASSESSED VALUE:
$84,470
HAZARD:
--
CONDEMNED:
--
ORDERS:
September 2009, for gutters and downspouts, soffit, exterior paint, and an unsafe front porch. In 2009-2010, the property spent 270 days on the market at a listing price of $54,900. The church purchased the property in October 2011 for $24,000 and, in January 2012, the building was ordered vacated and barricaded after doors had been kicked in and copper had been stolen.
REASON RAZED:
Owners of an adjacent parking lot, it could be a case of the church wanting to close out the building orders, or they could be looking for expanded parking.
MAP