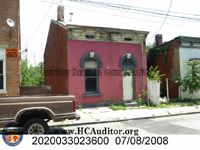 NEIGHBORHOOD:
North Fairmount
YEAR BUILT:
1901
USE:
Single-family dwelling
OWNER:
JSK Investment Group, LLC
ASSESSED VALUE:
$5,050
HAZARD:
November 2008, adding broken and missing windows and holes in the walls.
CONDEMNED:
October 2008, for cornice, gutters and downspouts, a bulging masonry wall, collapsing chimney, a dangerous rear deck, and severe interior vandalism.
ORDERS:
August 2006, ordered vacated and barricaded. Reissued to a new owner in April 2007. In March 2008, a criminal case was filed against her. Late that year, the case was referred to the housing diversion program.
REASON RAZED:
Declared a public nuisance and entered into the City's hazard abatement program.
MAP