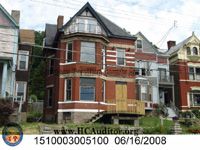 NEIGHBORHOOD:
Sedamsville
YEAR BUILT:
1900
USE:
Two-family dwelling
OWNER:
Collins Riverside Development LLC
ASSESSED VALUE:
$49,510
HAZARD:
--
CONDEMNED:
November 2011, fire condemnation. A criminal complaint was in the works in January 2012, but was not pursued following the owner's application for a demolition permit.
ORDERS:
October 2007, for exterior handrails, porch guardrails, and a non-weathertight exterior. Ordered vacated and barricaded in October 2009 due to general disrepair, including roof, gutters and downspouts, and loose exterior electrical wires. By November 2011, the house had no utilities and had been overtaken by trespassers, vandals, and vermin.
REASON RAZED:
Razed by Collins Riverside Development LLC to make way for a planned residential and retail project that's been in the works for five years.
MAP