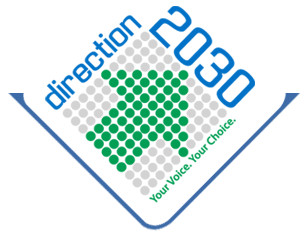 The second round of public meetings for Kenton County's
Direction 2030
comprehensive plan continues with a discussion on economic competitiveness, this evening from 6 P.M. to 8 P.M. at
Simon Kenton High School
in Independence.
Janet Harrah, senior director of the
Center for Economic Analysis and Development
, will present data and analysis of the county's economic position. Panelists then will discuss the investments needed to build a more prosperous Kenton County, which will allow it to better compete with other metro areas across the nation.
This evening's panelists include:
Della Rucker, principal at
Wise Economy Workshop
, will moderate the discussion. A public question and comment session will follow.
Fifty-five percent of respondents to a keypad survey held last year selected jobs as the most important local issue, topping shops and amenities, outdoor recreation, housing options, and education. Better employment – and giving youth an incentive to stay and work in the area – was also a major topic of previous meetings' small group discussions.
In a prepared release, Kenton County Planning Commission Chairman Paul Darpel said that this meeting, and one held last month in Ludlow, are meant to refine and clarify input received from the public meetings held last fall.
"Everyone is concerned with our long term economic competitiveness," he said. "This meeting provides the general public, elected officials, and planning commission members and opportunity to hear what local experts have to say and give us their ideas and opinions on the subject. I think people will be surprised at the amount of attention various agencies and individuals give to our county's economic future."
Those unable to attend either meeting are encouraged to participate online.
Preparation of the comprehensive plan's draft goals and objectives is expected to begin in September.
Previous reading on BC:
Kenton County comprehensive plan enters second public round (6/14/12)