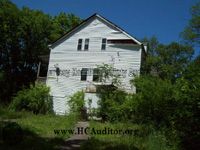 NEIGHBORHOOD:
West Price Hill
YEAR BUILT:
1880
USE:
Multi-family dwelling (4 units)
OWNER:
Robert C. and Ardelta M. Rechel
ASSESSED VALUE:
$70,200
HAZARD:
December 2010.
CONDEMNED:
March 2010, open to trespassers and severely vandalized. The structure had a failing second floor roof support beam, falling plaster and drywall, dropped and hanging ceiling structures, a collapsing chimney, hazardous exterior stairs, siding falling off, stolen and exposed plumbing, litter and sewage. A criminal case was filed in August 2010, but has not progressed.
ORDERS:
--
REASON RAZED:
Declared a public nuisance and entered into the City's hazard abatement program.
MAP