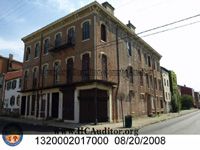 NEIGHBORHOOD:
West End
YEAR BUILT:
1900
USE:
Mixed-use
OWNER:
Bright Star Baptist Church
ASSESSED VALUE:
$71,800
HAZARD:
September 2008.
CONDEMNED:
May 2007. Collapsed ceiling, water damage, and compromised floors. Cornice and window repair needed, with the possibility of glass falling over the public right-of-way. By early 2010, the south masonry wall began to collapse and the chimney was in danger of doing so as well. Condemnation orders were re-issued to a new owner, West End Renaissance Village, in June 2010. This case is currently in criminal status. In April 2012, Bright Star Baptist Church, a partner in the Renaissance Village project, acquired the property through quit claim deed for $5,000.
ORDERS:
February 2003, ordered vacated and barricaded by the
Cincinnati Metropolitan Housing Authority
for excessive rubbish, tuck pointing, and plaster. Re-issued
REASON RAZED:
Razed by the
Community Revitalization Agency
to close orders and to make way for its proposed Renaissance Village development, the redevelopment of 64 sites bounded by York, Baymiller, Findlay, and Linn streets.
MAP