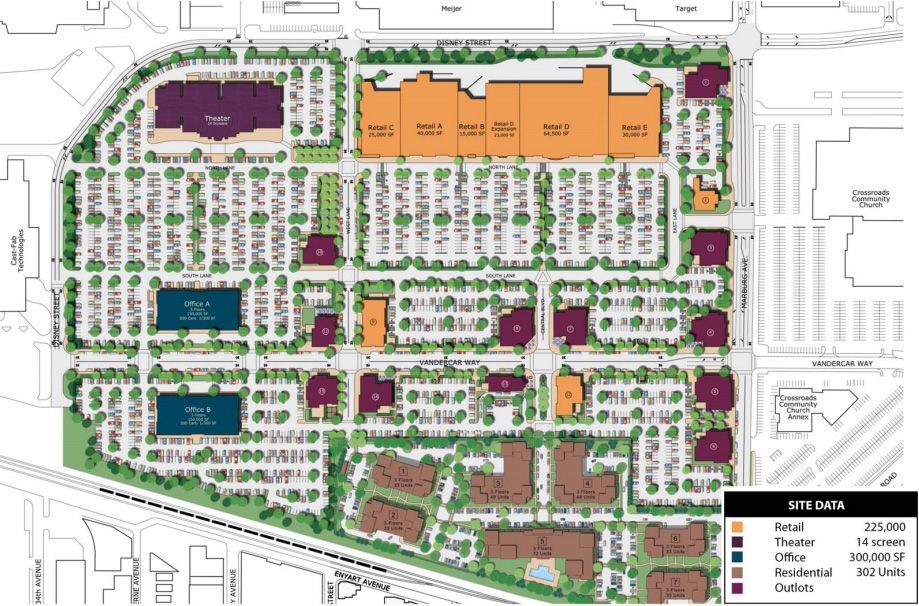 One week ago, Cincinnati City Council passed a package of ordinances to finance public improvements at the
Oakley Station
project.
The package included a cooperative agreement, which further defines the terms of a development agreement between the City, developer USS Realty, and the
Port of Greater Cincinnati Development Authority
; a service agreement, establishing a project-based tax increment financing (TIF) district to finance the site improvements; and a special assessment agreement, defining the duties of both the City and USS Realty in collecting assessments on the property, which will help service the TIF bonds.
The public improvements necessary to build the $120 million mixed-use project include:
The construction of two new public streets, Disney Street and Factory Colony Lane;
An extension of Vandercar Way;
New sidewalks, traffic signals, and street lighting;
Sanitary and storm sewers, water mains, and fire hydrants; and
Utility upgrades.
Improvements at
the 74-acre site
are scheduled for completion by next spring.
At build out, Oakley Station will include the 302-unit Boulevard at Oakley Station apartments and a 55,000-square-foot Cinemark movie theater, to be completed by the end of 2013; 350,000 square feet of retail space, to be completed by the end of 2014; and 250,000 square feet of Class A office space, half to be completed by the end of 2015 and the remainder by the end of 2017.
It is estimated that the project will create 1,700 jobs, generating nearly $800,000 in annual earnings tax revenue.
Previous reading on BC:
Oakley Station residences win LEED tax exemption (4/9/12)
Hearing on Oakley Station remediation tonight (3/8/11)
Vision Land puts Millworks plans on website (7/22/08)