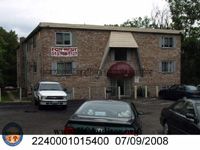 NEIGHBORHOOD:
East Westwood
YEAR BUILT:
1969
USE:
Multi-family dwelling
OWNER:
2015 Weron LLC (Alexandria, Va.)
ASSESSED VALUE:
$592,960
HAZARD:
September 2010, adding open and broken windows and excessive debris.
CONDEMNED:
December 2008, following a fire that damaged joists in multiple units and left a hole in the roof. A criminal case was filed in April 2009, but dismissed two months later.
ORDERS:
Many between 2002 and 2008, all closed due to compliance.
REASON RAZED:
Declared a public nuisance and entered into the City's hazard abatement program.
MAP