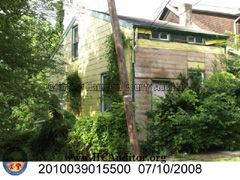 NEIGHBORHOOD:
North Fairmount
YEAR BUILT:
1893
USE:
Single-family dwelling
OWNER:
Cora McCray
ASSESSED VALUE:
$30,000
HAZARD:
December 2010, adding broken and missing windows and overgrown vegetation. Owner may be deceased.
CONDEMNED:
December 2008, for rotted framing and sill, missing siding, gutters and downspouts, missing rear porch posts, and interior vandalism. The house was vacant.
ORDERS:
--
REASON RAZED:
Declared a public nuisance and entered into the City's hazard abatement program.
MAP